Looking for some blog fun?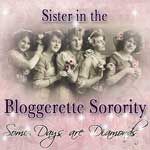 In her own words....
"What
fun
we shall all have!
sharing creations and ideas
- all of this is in store for all of us.
From home decor to crafting,
our days will be full of fun in the months ahead.
I've received some AWESOME ideas
from all of you and I am really looking forward
to bringing it all to fruition. "